Welcome to the Official Wiki of the Consolaria mod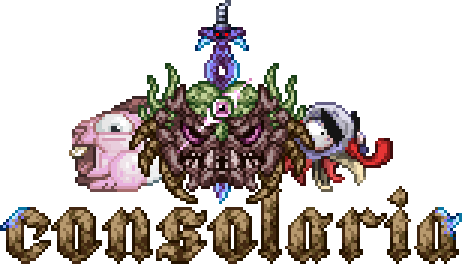 The most comprehensive source of information about the Consolaria mod (This wiki is Currently Under Construction and is mainly incomplete links at the moment).

About the Mod
Consolaria is a mod for Terraria that re-implements content from the console and mobile editions of terraria. It currently adds in 3 bosses, multiple enemies and lots of new items from the console editions as well as new content inspired by these versions of Terraria.
Blocks

Consumables

Crafting materials

Furniture

Pets

Tools

Vanity items

Walls



Consolaria

Weapons •
Ammunition •
Armor •
Accessories •

Pets

 •
Vanity items

 •
Potions

 •
Blocks

 •
Walls

 •
Furniture

 •
Crafting materials

 •
Miscellaneous
Enemies(
Bosses

)

Mechanics (
Buffs

 •

Crafting recipes

 •
Debuffs
Armor
Sets

Dragon

 •

Ostara

 •

Spectral

 •

Titan

 •

Warlock
Pets

Pets

Beeswax

 •

Brain

 •

Cabbage

 •

Golden Seaweed

 •

Petri Dish

 •

Turkey Feather

 • Vial of Blood •

Wolf Fang
Vanity items
Vanity sets

Ancient Dragon

 •

Ancient Spectral

 •

Ancient Titan

 •

Ancient Warlock

 •

Fabulous

 •

George

 •

Horned God

 •

Monokuma

 •

Monomi

 •

Mythical

 •

Purple Hero

 •

Shiren

 •

Toro

Vanity pieces
 •

Boss Masks

 •

Festive top hat
Blocks
Crafted

Purple Stucco
Walls
Crafted

Purple Stucco
Furniture
Functional
Banners •

Music Boxes

 •

Trophies
Crafting materials
Crafted

Purple Thread

 •

White Thread

Drops
Soul of Blight
Mechanics

Buffs

Bat

 •

Eye of Eternity

 •

Golden Turtle

 •

Guinea Pig

 •

Pet Turkey

 •

Slime

 •

Tiphia

 •

Wierd Turkey

 •

Werewolf

 •

Zombie

Crafting recipes

Evil Biome Altars

 •

Hardmode Anvils

Debuffs

Hot Sauce

 •

Spectral Flames

Other

Defense

 •

Drops

 •

Minions

 •

Music