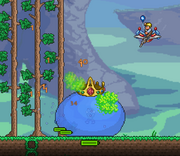 Spore Bullets are a type of ammunition used by guns in the Champion Mod. Spore Bullets explode into fumes upon impact with the ground or a target. The fumes inflict enemies with Poisoned for 7 seconds.
If the target is immune to Poisoned or Venom, the target will not be affected by the fumes.
Crafting
[
]
Recipe
[
]
Tips
[
]
Spore Bullets can be somewhat difficult to collect due to the fact they require Jungle Spores to craft, but deal more damage than Musket Balls and can inflict Poisoned.
History
[
]