Not to be confused with the
Orange Phaseblade
, which is used to craft the Orange Phaseblade.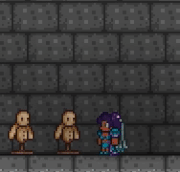 The Orange Phasesaber is a Hardmode broadsword which is a direct upgrade to the Orange Phaseblade. It is very similar to its predecessor, except dealing about twice as much damage, being capable of autoswing, and having slightly modified visuals. This is a variant of the Phasesaber with an orange color. It emits a small amount of flight when swung.
Its best modifier is Legendary.
Crafting
Recipe
Gallery
History